By Top Shot Chris ChengTop Shot Chris Cheng, History Channel's Top Shot Season 4 Champion. NFT firearm visionary. Techie, Author, Civil Rights advocate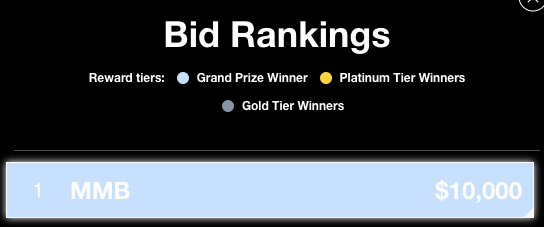 The results of the first NFT cover art auction in the firearms community was incredibly successful. The 10 rare NFTs of RECOIL Magazine Issue 56 with Top Shot Chris Cheng on the cover sold for a combined $31,128. Put another way, the NFT auction generated $31,128 worth of new value for these collectors and new owners. It will be fascinating to see how the RECOIL Issue 56 NFTs appreciate in value over time.
The top bid for NFT Serial #1 went for an incredible $10,000. The auction end got extended by about 30 minutes, as each bid extended the end time by a subsequent 5 minutes. In the end, user "MMB" and Maj Toure of Black Guns Matter were duking it out and pulled away from the pack.
Things were close for a while between MMB and Maj Toure, until MMB dropped a $10,000 game-ending bid.
It's incredibly exciting to announce that user MMB is the winner of the Grand Prize package which includes:
NFT Serial #1 of digitally autographed Top Shot Chris Cheng on the cover of RECOIL Magazine Issue 56, representing #2AForAll
A physically autographed copy of RECOIL Issue 56
A ticket to the in-person fun shoot with Top Shot Chris Cheng and the RECOIL staff, with the grand prize perk of a 1:1 private session
Lifetime digital subscription to RECOIL Magazine
10 year physical subscription to RECOIL Magazine
RECOIL swag
Here are some fascinating statistics about the new ecosystem and economy we just created with these 10 firearms-related NFTs:
Cumulative total: $31,128.00
High bid: $10,000.00
Low bid: $650.00
Average: $3112.80
Median: $2157.50
There will be more in depth articles about the winners, but for today I want to congratulate MMB on winning the Grand Prize and to the other 9 winners for becoming a huge part of #2A history in this historic auction. It is going to be a new way for gun owners and supporters to collect and trade digital art while promoting our way of life and the values we believe in.
Article originally published at:
https://medium.com/@topshotchris/31-000-in-nft-value-generated-by-recoil-magazine-issue-56-cover-art-with-top-shot-chris-cheng-270a8a866d17
$31,000 in NFT value generated by RECOIL Magazine Issue 56 cover art with Top Shot Chris Cheng